INFORMATION
Fees | Uniforms | Parental Involvment
INFORMATION
Calliope Sea Scouts is a well established and successful Scout Group that offers a wide range of activities based around the training and development of young people, not only with regard to water activity but general life skills as well.

The Group is registered with the New Zealand Scout Association which makes available much resource material, equipment and training courses for both leaders and scouts. This ensures that your child is involved in a group which offers well organised activity led by adults who have been through Scout Association training.
FEES

Fees are set annually by the parent Committee, taking into account the projected running expenses for the year. An annual levy of $225.00 per youth member is made by the National Scout Association and this is included in the fee set. Fees must help cover the programme costs and some maintenance on building and equipment, insurance, leader training, etc. They cannot hope to cover upgrading and replacement of boats, the ramp, or other major projects. The Annual Fees for both Kea's, Cubs's, Scout's and Venturers is $300.00 - although pro rata or payment plans can be negotiated.
Because the Committee is mindful of the need to keep the fees as low as is possible, further fund-raising activities are necessary to cover more major items of expenditure. Wherever possible financial assistance is sought from charitable organisations.

From time to time there are parents who feel unable - for one reason or another - to do their share with fund-raising activities. In this case may we suggest that a further financial contribution be made in lieu.

Over and above the annual fee there are special activity fees determined by the activity co-ordinator and helps towards the cost of running the these parts of the programme.


KEAS / CUBS

Recently the Cub pack changed its uniform to bring it into line with that worn by other Sea Cubs, The
uniform is as follows -
Shorts (Summer & Winter)
Sturdy Shoes
Dark Blue Sea Scout Shirt. Scouting Direct
Dark Navy Blue Sweatshirt (Winter)
Black Calliope Scarf and White Woggle (supplied at investiture)
Black Calliope Cap (Summer and Winter)

SCOUTS

Navy Blue Shorts & Shirt. (Summer & Winter)
Black Shoes / Black Socks.
Dark Blue Sea Scout Shirt. Scouting Direct
Lanyard. (Bosun & Coxwains)
Black Calliope Scarf and White Woggle (supplied at investiture)
Black Calliope Cap (Summer and Winter)

Uniforms shirts can be purchased new through the Scouting New Zealand online store. Shorts and Socks are available via the Clothing Store in Devonport (Yarnton's). The shorts are the same as Belmomt Intermediate.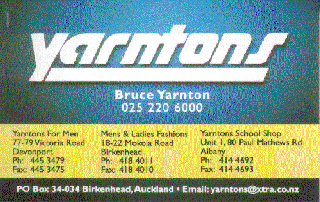 If you are interested, ask the Secretary and they will put you in touch with the relevant leader.

PARENTAL INVOLVEMENT

Calliope Sea Scouts and Cubs are lucky enough to have some terrific leaders who are involved in organising and running the weekly group meetings and also providing extra-curricular activities from time to time. However, such organisations cannot function without parental support and input

Listed below are some of the ways in which you will be encouraged and expected to support your child's
activities -

* by providing transport from time to time, as required, for away-from-base activities

* by being available, if needed, as parent help on cub nights, for camps, etc.

* by helping occasionally with maintenance working bees for boats, building.

* by supporting (physically and/or financially) fund-raising activities

* by once a year being prepared to attend the Annual General Meeting to show your support for
leaders and the current Committee.

* by being willing to serve, as able, as members of the Parent Committee.
If you have further queries the leaders are more than willing to talk with you and put you in touch with committee members if that is appropriate. We feel sure your child's time with our Cub Pack and/or Scout Group will be happy and beneficial.